We have appeared on over 6 television shows over the years. Here are some stories on a few of them.
FAIRBANKS "DOOMSDAY PREPPERS" RANKS TOP FIVE FOR NATIONAL GEOGRAPHIC CHANNEL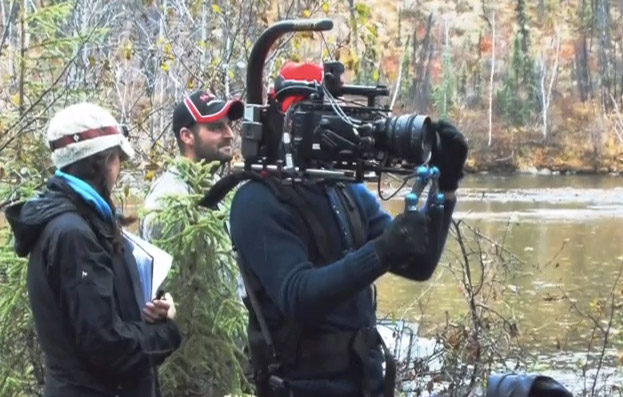 As you may know, National Geographic's popular "Doomsday Preppers" is a reality television series that rates one's ability to survive a catastrophic scenario, such as a global economic meltdown, nuclear war, or power grid failure.
This past summer, I was featured in a Nat Geo episode called "Pain is Good". It was a unique experience in many ways. I participated in the project with another Alaskan, Don Kubley, from Juneau. Don owns a company that manufactures dome shelters. Essentially, we allowed the film crew to follow us around for a few days, focusing primarily on what we would consider a routine trip to the
Goodpaster River outside of Delta Junction. My family has had a cabin on the 'Goody' for generations, and it's a particularly special place for me. After numerous pre-production meetings and several days of shooting, the film crew headed back to New York. While filming, it became evident they'd be spicing the show up a bit for dramatic effect, as is typical for most reality programs. Once it was complete, the episode began running in February of this year, and I recently learned that of all 26 Doomsday Preppers they've produced, ours ranks among the top five in popularity.
Interestingly, our 'preps' were done at a much lower cost than that of others who have been featured. One infamous prepper invested over a million dollars in a bunker, weapons, food, water storage, and other provisions in anticipation of the end of the world as we know it. Another spent several decades burying dozens of retired 
school buses underground; then interconnected them all together. And us? Back in September, we took a couple of extra fifteen-gallon poly drums of gas, a few extra steaks, and we left the Delta boat launch as we normally do. But this time the trip included the film crew, as well as my daughter Emily, Intershelter's Don Kubley, and the president of SJX, an Idaho boat manufacturer with whom we work. I didn't really know what the producers were looking for, having never seen the show. In fact, I'd not even heard of it until a few weeks earlier.
But fast forward to why we really decided to appear on this incredibly popular show. Am I concerned about a pending nuclear war? No. Was I afraid that the bird flu or some other global pandemic was about to settle into the interior like a blanket of ice fog? Not one bit. In terms of future fears, my most significant concern is about the economic downturn we've seen over the last decade. I believe, given our current state of affairs, that an economic collapse is entirely possible, and I worry for my children and their future.
But that's not the only reason I did the show. To be honest, I agreed to partake in the project because I wanted to sell boats. And it has worked far beyond anything we could have ever anticipated.
When I was first approached by National Geographic's associate director, I recall my first comment was, "Doomsday Preppers? Sorry, never heard of you." Since I enjoy reality television about as much as dry heaves, it was not on my list of shows to record on the DVR. My first question was "How the hell did you come up with me?"
It turns out a buddy of mine who designed the domes we use as our hunting camp up the river was initially contacted by the network since his pre-fab kits are often used as emergency bunkers, homeless shelters, and other purposes. My buddy is Don Kubley, and his company is Intershelter. Don has hunted with me up the Goodpaster for many years, and we had actually spoken about what a great place our hunting camp would be to "get the hell out of town" if there ever were a true emergency. After all, we had access to plenty of four-legged protein, as well as wood, water, fuel, and ammo. Essentially, we had in our possession all those things that we'd need if total mayhem broke out in an 'urban center' like Fairbanks.
The show's producers were convinced the episode would be a hit. They felt it had all the ingredients of a top-rated show. It had the beauty and remoteness of Alaska. It had wild game. It had powerboats, it had danger. It even had an ingredient that seems consistent with preppers I've now seen in other episodes: it had rednecks. But at the time I wasn't easily convinced. After telling the director "no thanks" for the fourth time, a fifth call came into my office on a late July afternoon. "Do you have any idea how many people watch this program?" they asked. No." I replied. He reminded me that the program could help demonstrate to millions of viewers an innovative and practical way to prepare for future catastrophes. "Millions?" I asked. "Yes," he responded. He said we could expect millions of viewers, and that didn't include syndication, follow-up specials, and other airings. Whoa. Those numbers were well over what I had expected. I got to thinking about what it would cost to advertise, say, the boat we'd be using in front of five million people in dozens of countries for nearly an hour on national TV. I didn't know the answer, but at that moment, I got it. There was no question. I was a natural-born prepper, alright. My mind raced ahead: most importantly, I'd need to prep for a huge surge in boat sales.
You might be wondering why anyone in the Lower 48 would buy a boat from some Podunk dealer in Interior Alaska. Our company, Compeau's, Inc, in Fairbanks, has been in the marine business for nearly 70 years. We feature a boat called the SJX, which is designed with a specific inboard tunnel hull we developed ourselves in 1998. Its design became so immediately popular that over the past 15 years several other boat manufacturers have tried to copy it in an attempt to increase sales of their traditional jet boats, which are typically powered by a much less efficient and vulnerable jet pump system.
While we designed and tested them in Fairbanks, we had the jet boats built stateside by SJX Boats of Orofino, Idaho. Our company has 100% exclusive sales and distribution rights for these boats worldwide. That's right, worldwide. To date, we have sold our SJXs in 19 different states, and countries including Canada, Russia, Ukraine, West Africa, the Philippines, Ecuador, Kuwait, several European countries, and others. I wasn't aware, until recently, that many of those countries even had shallow rivers. But since the episode first aired in February of this year, sales of the boats have exploded across the globe, bigger than a box of TNT in a bugout shelter. The SJX factory has had to ramp up production with new welders and fabrication workers to handle the order backlog. We went from a six-week delivery lead time to over six months, even with the company's increased capacity.In fact, they are continuing to hire more workers because the episode is repeatedly aired in new markets, and is sure to generate even greater demand. I guess you could say they are prepping for the future, as well. I appreciate National Geographic's interest in our riverside getaway and I have great respect for the work they do in producing such compelling television. I'm also intrigued that we found our episode among the "Top Five Prepper of All Time"—an episode that continues to air and is also available on Nat Geo's online store as part of their Season Two video. I guess in the end, it doesn't really matter much to me how we got there. Yes, I suppose the world could end tomorrow, and it's very important to be prepared. But the reality, for me anyway, is that here at Compeau's we're doing just fine today.

Off the hook ON THE DISCOVERY CHANNEL (ANIMAL PLANET)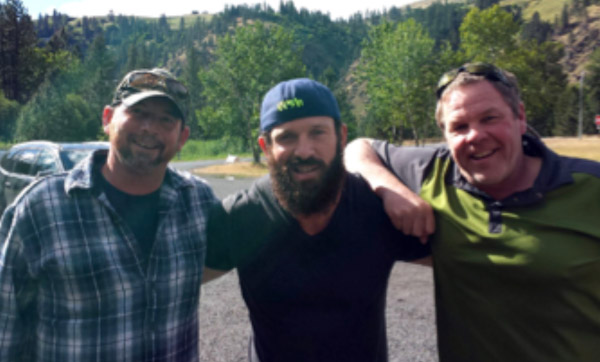 Our SJX boats will also be featured on an exciting and popular Animal Planet fishing show called "Off the Hook" Showtime Eric Young, an avid yet novice outdoorsman and professional wrestler, is getting out of the ring and turning in his tights for some tackle.
He's on the adventure of a lifetime to hear, smell and taste big and small stories of the one that got away.
 All across America, some fisherman go to extremes to haul in their catch – from using pantyhose on a rod and reel to catch sharks in the Atlantic Ocean to launching live bait with fire extinguishers
 on Lake Michigan – and Young will try his hand at all of them. Using all sorts of unique bait, tackle, poles and transportation (and a little SPF), he is aiming to be the makeshift MacGyver of fishing while learning the best and most unique techniques this country has to offer! Each episode of OFF THE HOOK: EXTREME CATCHES follows Young as he crisscrosses the country to try his hand at various fishing practices, ranging from wildly dangerous to all-out weird! From the waterways of New England to the beaches of North Carolina and from the coasts of Florida to the shores of California (and everywhere in between), Young is about to meet his match. Paddle board and jet ski fishing for sharks? No problem! Underwater spear fishing and nighttime squid jigging? Easy! Fishing for dangerous alligator gar or invasive species like snakehead fish and carp? Um, that might be an issue… During his quest, he learns an interesting array of intricate and industrious methods employed by some of America's fishing masterminds. And he will come to embrace odd local traditions practiced for decades and centuries. And no matter how long it takes, how crazy it seems or how many bumps and bruises he gets along the way, Young won't stop 'til he catches the ultimate fish, including the one that got away… Off the Hook: Extreme Catches showcases some of the hardest playing and hardest working fisherman in the country, some of whom have pioneered ingenious and insane methods of catching fish for both profit and play. During each episode, Young meets two experts who help him go toe to toe with some of the biggest (and smallest) fish around. For the episode featuring the SJX jetboat, Young and company travel to Orofino, Idaho where the SJX boats are built, and home to some of the best Sturgeon fishing in the world. SJX President Steve Stajkowski and dealer Craig Compeau show Young what their boats are made of and how the innovative tunnel hull inboard design that all started in Fairbanks is changing shallow water boating all over the planet. Get ready for some big fish… and some really big air!
Here is our segment of the show.  Hope you enjoy.