NEW 2252 SEAARK SOURDOUGH-THE BOAT YOU HELPED US DESIGN!
INTRODUCING THE NEW ALL-WELDED BOAT THAT PLANES EASIER, AND CARRIES MORE WEIGHT WITH LESS HORSEPOWER THAN ANY OTHER BOAT IN ITS CLASS.
 The 2252 Sourdough from Sea Ark. Similar in design to the early model freighters that the early pioneers used, the Sourdough has a good beam, tall sides, and lots of features that the original boats were missing. Like all welded construction with one piece extruded ribs and heavy duty transom braces. No rivets in this bad boy! All Sourdoughs come standard with front deck and rear seat storage, and a center removable bridge seat that stows away on the side of the boat when you need to carry big bulky cargo vs passengers. Thank you for all your input and suggestions over the winter on this one of a kind Alaskan boat! If you have any questions please give us a call at 1-800-478-7669
There never seems to be enough room in a boat for all your gear. Ropes, anchors, tackle box, etc. Because the 2252 Sourdough is considered a commercial use boat, it allows us to maximize the available storage space for gas and gear vs foam pods. Gone are the days of tripping all over your gear on the bottom of the boat. The 2252 Sourdough has more usable space and an open floor-plan for better access, fishing and hauling big cargo like ATV's and firewood.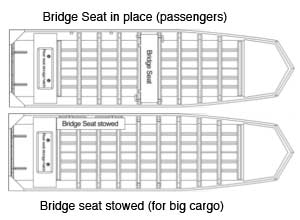 The transom can handle large motors if you are looking to "re-hull your power", and the good news is that you will be able to throttle way back from what you are used to, saving money in fuel and making your river trips quieter and more enjoyable.
The best part is, the Sourdough is a very easy pushing boat. It doesn't take a big gas guzzling outboard to get from village to village. With anywhere from a 25 to a 50hp motor, you can cruise the rivers with a small fuel tank and get great mileage. Although the 2252 riverboat is rated for up to 75 hp, remember the old-timers used to run 25hp outboards on long skinny riverboats up to 30 feet long! 
COLORS - OPTIONS - AVAILABILITY - PRICES
Choose from standard OD green, or upgrade to shadow grass camo exterior.
SPECS/STANDARD FEATURES: 2252 (22' LONG – 52" WIDE BOTTOM – 24' SIDES -20" TRANSOM - .100G ALUM)
Rear bench w storage hatch Front deck with storage access Center removable bridge seat (secured with HD mounts) Stow area w mounts on side of boat for bridge seat storage when not used Welded bow eye / HD stern eyes / drain plug
Prop tunnel (Alaskan version)
Jet tunnel (Alaskan version)
Transom sleeve (for jet motors)
Center steering console w steering
Port side console with steering
Full walk thru welded console w w/s & steering
Dual consoles w port side steering
Swivel chairs on rear deck (using seat track)
Marine battery and box
Non skid floorboards
Fuel system (12 or 24 gallon)
500GPH bilge pump w switch
Custom fabricated options
Pike pole w mounts
Paddles w paddle holders
SEE THE 2252 IN ACTION WITH JUST A 20HP YAMAHA 4-STROKE